Stay Cool and Beat the Heat: Essential Tips for Tourists in St. Augustine This Summer
As the summer sun shines bright in St. Augustine, Florida, it's essential to stay cool and comfortable while enjoying the city's numerous attractions. From historic landmarks to scenic beaches, St. Augustine offers a wealth of experiences for tourists. To make the most of your visit without succumbing to the summer heat, we've compiled a list of essential tips to keep you cool and refreshed throughout your adventures in the nation's oldest city.
Hydration is Key: Stay Refreshed Throughout the Day
Staying hydrated is crucial during the hot summer months. Carry a reusable water bottle and refill it at the numerous water fountains and hydration stations available throughout St. Augustine. Drink water frequently, even if you don't feel thirsty, to keep your body cool and prevent dehydration. Stop by St. Augustine Seafood Company at the Colonial Quarter and grab a Lighthouse Lemonade. $1 from each purchase goes to the nonprofit St. Augustine Lighthouse & Maritime Museum.
Timing is Everything: Plan Your Activities Wisely and take Advantage of Indoor Attractions
The timing of your activities can greatly impact your comfort level in the summer heat. Plan outdoor excursions, such as visiting historical sites or exploring nature parks, during the cooler hours of early morning or late afternoon. Reserve indoor activities, like museums or art galleries, for the hottest part of the day. Begin your day with a trip to the Castillo de San Marcos and beat the heat (and the line!) first thing. Visit the cool indoors at the very cool Lincolnville Museum and Cultural Center to learn about St. Augustine's Civil Rights History and life in the Jim Crow era South. In the mood for tales of pirates and treasure? Head to the St. Augustine Pirate and Treasure Museum for a look at just some of the treasures found along Florida beaches.
Linconville Museum and Cultural Center; St. Augsutine Pirate and Treasure Museum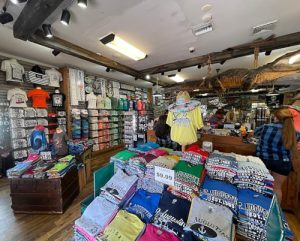 Gator Bob's Trading Post at Old Town Trolley St. Augustine.
Dress for the Heat: Optimal Clothing Choices
Choose lightweight, breathable clothing made from natural fabrics like cotton or linen to keep cool in the Florida heat. Wearing loose-fitting, light-colored clothing can help reflect the sun's rays and promote airflow around your body. Don't forget to protect yourself from the sun by wearing a wide-brimmed hat and applying sunscreen regularly. Pick up a new shirt or hat from the St. Augustine Lighthouse gift shop or get outfitted for your St. Augustine Adventure at Gator Bob's Trading Post at Old Town Trolley.
Embrace Water Activities: Beaches and Hotel Pools
Cool off and have fun by indulging in water activities that St. Augustine has to offer. Visit the beautiful beaches along the coastline, where you can swim, sunbathe, or simply relax under a shady umbrella. Book a room at any one of St. Augustine's Resort-style hotels to take a break and enjoy the pool or beach. Many of St. Augustine's B&B's even have pools to take a dip in when the heat of the day tells you its time to cool down. Ready to hit the water for a cool ocean breeze? Book a trip at Florida Water Tours and enjoy the scenic view of the bayfront and watch dolphins play on the Matanzas River. Rather see our unique and diverse marine life up close? Head to the St. Augustine Aquarium and Snorkel Adventure for a hands-on adventure or swim with dolphins at Marineland Dolphin Adventure!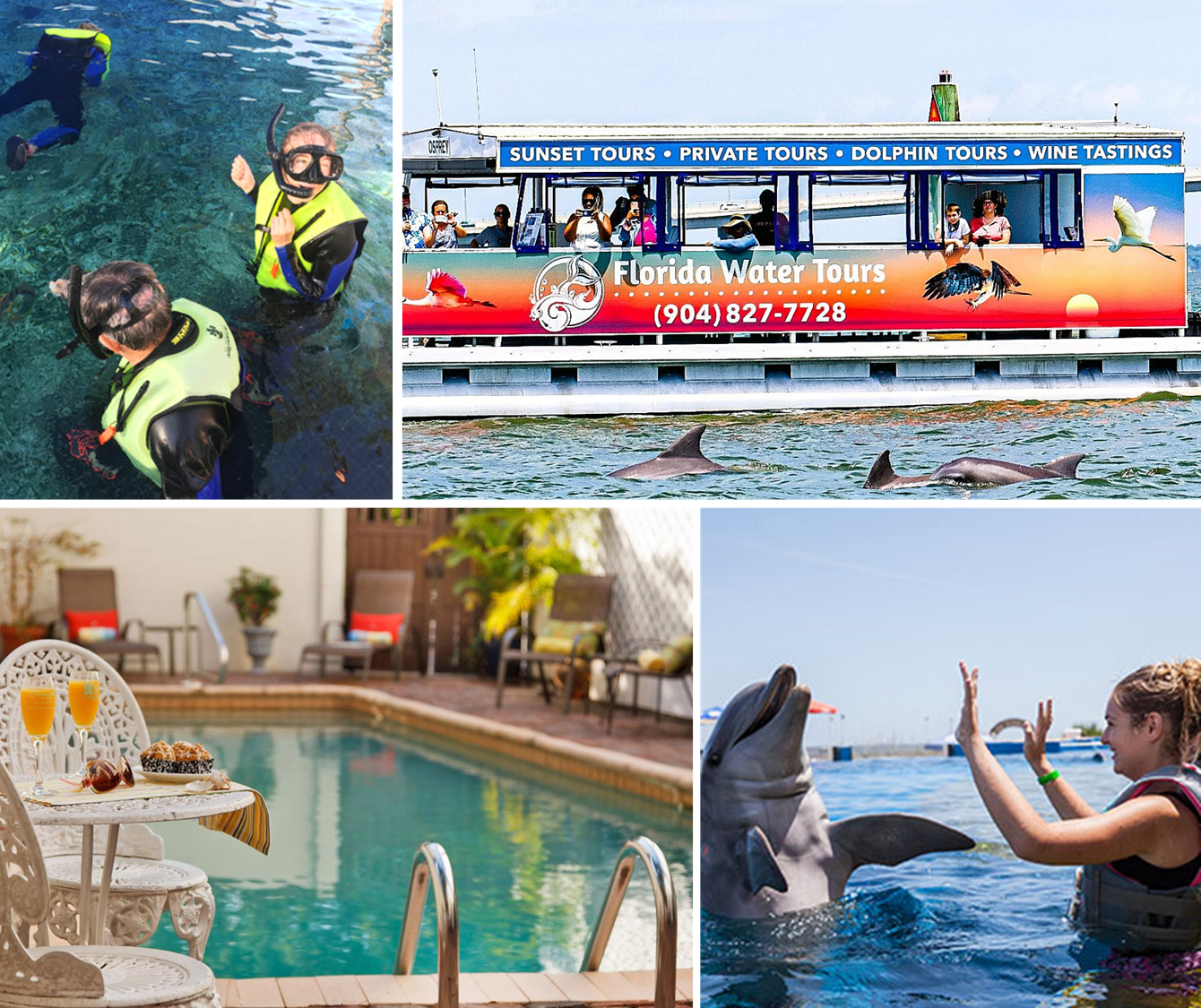 From top left clockwise: St. Augustine Aquarium and Snorkel Adventure; Florida Water Tours; St. Francis Inn; Marineland Dolphin Adventure

Meehan's Irish Pub; Raintree Restaurant
Plan Indoor Dining or Al Fresco Options
When it's time to refuel, opt for indoor dining establishments with air conditioning or choose al fresco dining spots with shade and a breeze. St. Augustine boasts a diverse culinary scene, offering everything from seafood to international cuisine. Take advantage of outdoor seating areas that provide a comfortable dining experience while enjoying the city's atmosphere. Raintree Restaurant provides a beautiful outdoor dining area shaded by palms and live oaks. Meehan's Irish Pub offers bayfront dining with live music and beautiful views of the Bridge of Lions.
Stay Informed and Flexible: Weather Updates and Indoor Alternatives
Summertime in Florida may mean sunshine and humidity, but it is also our rainy season. Keep an eye on the weather forecast and be prepared for sudden changes in temperature or storms. Check your forecast daily and keep an eye on the sky, especially in the afternoon. You can expect a stray shower almost daily during the summer months so pack an umbrella or rain poncho. Stay informed about indoor alternatives or backup plans for your activities, so you can adapt your itinerary if needed.
Keep Health and Safety in Mind
Know the signs and symptoms of overheating and heat stroke. If you feel unwell or uncomfortable head inside and cool down with some water or an electrolyte drink. In St. Augustine, our emergency number is 911 and can be dialed from any phone.
With these essential tips in mind, you can stay cool and comfortable while exploring the wonders of St. Augustine this summer. From staying hydrated and dressing appropriately to seeking indoor attractions and enjoying water activities, there are plenty of ways to beat the heat!