Nights of Lights in St. Augustine transforms the nation's oldest city into a mesmerizing winter wonderland each holiday season. As the sun sets over the historic brick streets and Spanish architecture, millions of white lights adorning buildings, palm trees, and the iconic Bridge of Lions come to life, casting a warm and enchanting glow throughout the entire city. The soft radiance reflects off the Matanzas River, creating a picturesque backdrop that captivates visitors and locals alike. From the historic district to the bayfront, the entire city becomes a dazzling tapestry of light, illuminating the rich cultural heritage and architectural marvels that define St. Augustine. The festive atmosphere is further heightened by the sounds of carolers, the clip-clop of horse-drawn carriages, and the aroma of seasonal treats wafting through the air. Nights of Lights has become a beloved tradition, drawing visitors from far and wide to experience the magic and splendor that make St. Augustine a truly magical destination during the holiday season.
Nights of Lights begins November 18th, 2023 and runs through January 28th, 2024. The St. Augustine Attractions Association has over 30 members participating in Nights of Lights events throughout the season. Check our blog posting for updated specific member events and promotions.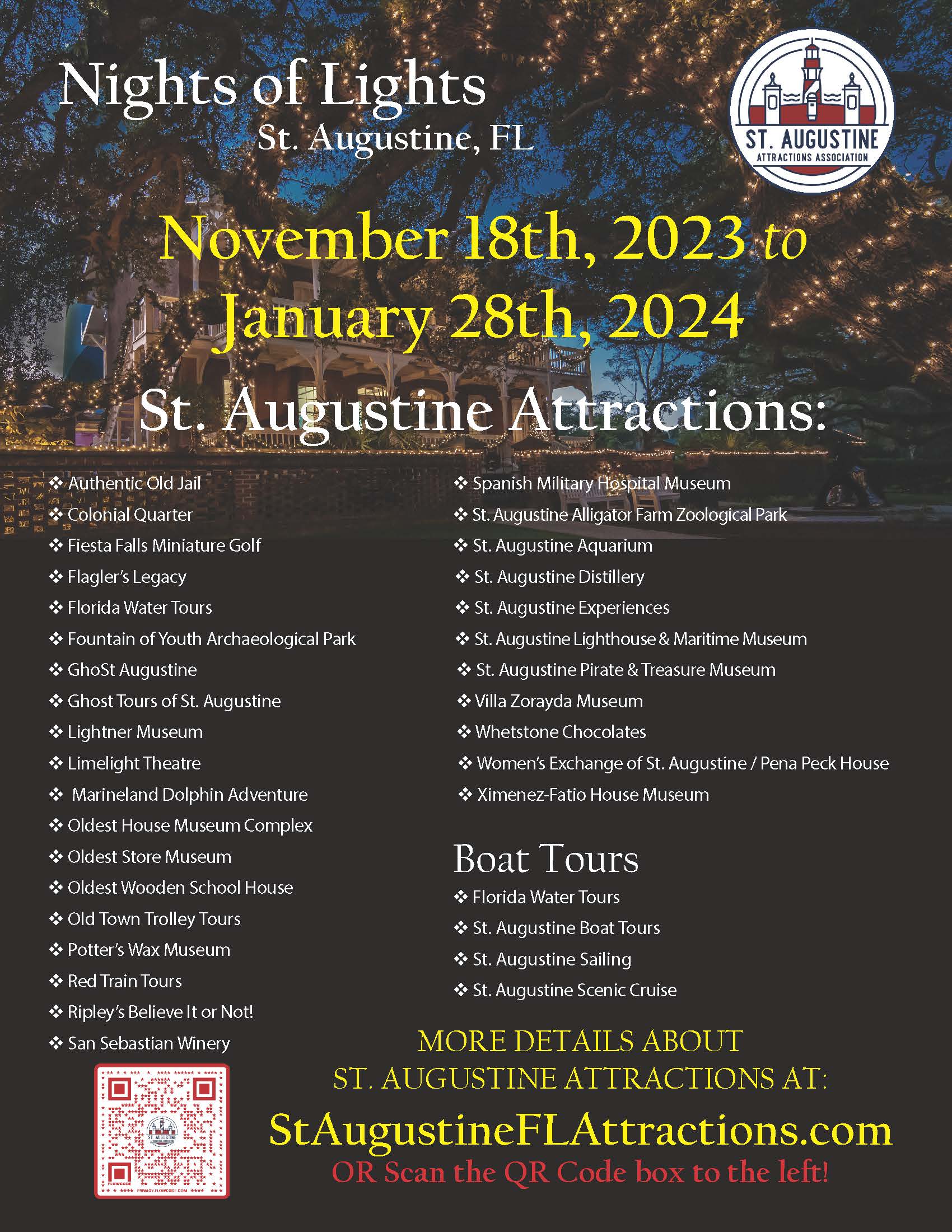 Create Unforgetable Family Adventures in St. Augustine
A family vacation to St. Augustine is not just an opportunity to explore a historic city but also a chance to create unforgettable memories together. From the moment you step foot in the nation's oldest city, you embark on a journey filled with fun, adventure, and quality time with your loved ones. Whether you're strolling along the brick streets, immersing yourselves in the rich history and culture, or building sandcastles on the pristine beaches, every moment becomes a ungforgettable memory. From laughter-filled adventures at local attractions to shared moments of awe at the city's iconic landmarks, the experiences you have together in St. Augustine will leave an indelible mark on your family's collective story. From exploring the Castillo de San Marcos to indulging in delicious local cuisine, every activity becomes an opportunity for family bonding and laughter. Make the most of your vacation to St. Augustine by visiting the over 75 members of the St. Augustine Attractions Association and create memories that will last a lifetime!